Grid5000:Home
From Grid5000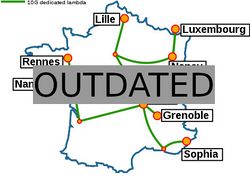 Grid'5000 is a large-scale and flexible testbed for experiment-driven research in all areas of computer science, with a focus on parallel and distributed computing including Cloud, HPC and Big Data and IA.
Key features:
provides access to a large amount of resources: 12000 cores, 800 compute-nodes grouped in homogeneous clusters, and featuring various technologies: GPU, SSD, NVMe, 10G and 25G Ethernet, Infiniband, Omni-Path
highly reconfigurable and controllable: researchers can experiment with a fully customized software stack thanks to bare-metal deployment features, and can isolate their experiment at the networking layer
advanced monitoring and measurement features for traces collection of networking and power consumption, providing a deep understanding of experiments
designed to support Open Science and reproducible research, with full traceability of infrastructure and software changes on the testbed
a vibrant community of 500+ users supported by a solid technical team

Read more about our teams, our publications, and the usage policy of the testbed. Then get an account, and learn how to use the testbed with our Getting Started tutorial and the rest of our Users portal.
Grid'5000 is merging with FIT to build the SILECS Infrastructure for Large-scale Experimental Computer Science. Read an Introduction to SILECS (April 2018)

Recently published documents and presentations:
Older documents:

Grid'5000 is supported by a scientific interest group (GIS) hosted by Inria and including CNRS, RENATER and several Universities as well as other organizations. Inria has been supporting Grid'5000 through ADT ALADDIN-G5K (2007-2013), ADT LAPLACE (2014-2016), and IPL HEMERA (2010-2014).
Current status (at 2019-10-23 10:03):
1 current events, 1 planned
(
details
)
Random pick of publications
Five random publications that benefited from Grid'5000 (at least 2073 overall):
Latest news

End of support for Debian 8 "jessie" environments
Dear users,
Since debian10  ("buster") environments have been released recently, we are going to drop support for the jessie/debian8 environments on October 31st 2019.
The last version of jessie environments i.e 2019081315 will remain available on /grid5000. You can still access older versions of jessie environments under the archive directory (see /grid5000/README.unmaintained-envs for more information).
Best regards,
-- Grid'5000 Team 10:30, October 16th 2019 (CET)

Default environments under Debian 10
As announced, since September 26th 2019, the default environment and the frontend servers are now under Debian 10.
Regards,
-- Grid'5000 Team 10:20, October 16th 2019 (CET)

Default environments and frontends to be updated to Debian 10 "Buster"
Dear users,
We are planning to upgrade nodes default environement (the "-std" variant, provided when deployment is not used) to Debian 10 "Buster". Switchover is scheduled on September, 26th.
In addition, frontends will also be upgraded on October 3rd (It has already been upgraded on Luxembourg site).
Remind that this update may need you to modify your scripts (of course you will still be able to deploy Debian 9 environments).
Regards,
-- Grid'5000 Team 12:00, 20 September 2019 (CET)

Debian 10 "buster" environments are now available for deployments
Kadeploy images (from min to big) are now available for Debian 10.
New features and changes in Debian 10 are described in: https://www.debian.org/releases/buster/amd64/release-notes/ch-whats-new.en.html
In particular, it includes many software updates:
openjdk 11.0.4
Python 3.7.3

python-numpy 1.16.2
python-scipy 1.2.2
python-pandas 0.23.3

OpenMPI 3.1.3
GCC 7.4 and 8.3
G++ 8.3.0
Libboost 1.67.0.2
Ruby 2.5.1
Cuda 10.1.168 (418.67)
CMake 3.13.4
GFortran 8.3.0
Liblapack 3.8.0
libatlas 0.6.4
RDMA 24.0
Known regressions and problems are :
Let us know if you want us to support some tools, software,... that are not available on big and std.
As a reminder, this is the way you can use an alternate environment (https://www.grid5000.fr/w/Getting_Started#Deploying_nodes_with_Kadeploy) :
 $ oarsub -t deploy -I
 $ kadeploy -e debian10-x64-big -f $OAR_NODE_FILE -k

Please report any problem you encounter with the above environments to support-staff@lists.grid5000.fr.
-- Grid'5000...
---
Grid'5000 sites
Current funding
As from June 2008, Inria is the main contributor to Grid'5000 funding.
INRIA

CNRS

Universities

Université Grenoble Alpes, Grenoble INP
Université Rennes 1, Rennes
Institut National Polytechnique de Toulouse / INSA / FERIA / Université Paul Sabatier, Toulouse
Université Bordeaux 1, Bordeaux
Université Lille 1, Lille
École Normale Supérieure, Lyon


Regional councils

Aquitaine
Auvergne-Rhône-Alpes
Bretagne
Champagne-Ardenne
Provence Alpes Côte d'Azur
Hauts de France
Lorraine