Grid5000:Home
From Grid5000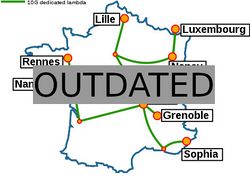 Grid'5000 is a large-scale and versatile testbed for experiment-driven research in all areas of computer science, with a focus on parallel and distributed computing including Cloud, HPC and Big Data.
Key features:
provides access to a large amount of resources: 1000 nodes, 8000 cores, grouped in homogeneous clusters, and featuring various technologies: 10G Ethernet, Infiniband, GPUs, Xeon PHI
highly reconfigurable and controllable: researchers can experiment with a fully customized software stack thanks to bare-metal deployment features, and can isolate their experiment at the networking layer
advanced monitoring and measurement features for traces collection of networking and power consumption, providing a deep understanding of experiments
designed to support Open Science and reproducible research, with full traceability of infrastructure and software changes on the testbed
a vibrant community of 500+ users supported by a solid technical team

Read more about our teams, our publications, and the usage policy of the testbed. Then get an account, and learn how to use the testbed with our Getting Started tutorial and the rest of our Users portal.

Recently published documents:

Grid'5000 is supported by a scientific interest group (GIS) hosted by Inria and including CNRS, RENATER and several Universities as well as other organizations. Inria has been supporting Grid'5000 through ADT ALADDIN-G5K (2007-2013), ADT LAPLACE (2014-2016), and IPL HEMERA (2010-2014).
Current status (at 2017-10-23 00:35):
1 current events, None planned
(
details
)
Latest news

Grid'5000 Usage Policy updated
The Grid'5000 Usage Policy has been updated.
In a nutshell, all usage that was previously allowed is still allowed after this update.
However, there are several changes to help increase usage of resources that are immediately available.
Jobs of duration shorter or equal to one hour, whose submission is done less than 10 minutes before the job starts, are excluded from daily quotas.

This means that one can always reserve resources for up to one hour when they are immediately available.

Similarly, job extensions requested less than 10 minutes before the end of the job, and for a duration of one hour or less, are also excluded from daily quotas. Those extensions can be renewed several times (always during the last 10 minutes of the job).

This means that, when resources are still available, one can always extend jobs for up to one hour.

Crossing the 19:00 boundary is allowed for jobs submitted at or after 17:00 the same day. The portion of those jobs from 17:00 to 19:00 is excluded from daily quotas.

This means that if at 17:00 or later on a given day, resources are not reserved for the following night, then it is possible to reserve them and start the night job earlier.

Crossing the 9:00 boundary is allowed for jobs submitted on the same day. But the portion of those jobs after 9:00 is still included in the daily quota.

This means that when resources are free in the morning, people are free to start working earlier.
Note that with those changes, it might become harder to get resources if you do not plan at least one hour ahead.
Another change is that the usage po...

New production cluster in Nancy (grele)
We are glad to announce that a new cluster with 14 compute nodes is ready in the production queue in Nancy !
There are 2 Nvidia GTX 1080Ti per node, providing a total of 100352 GPU cores. They are also equipped with :
2x Intel Xeon E5-2650 v4 (2.2GHz, 12C/24T)
128GB of RAM
2x 300GB SAS HDD 15K rpm
Intel Omni-Path network 100Gbps is not available yet, but should be soon. Note that, Grimani cluster will take advantage of this High speed Low latency network too.
This new High-End cluster, named "Grele", is jointly supported by CPER IT2MP (Innovations Technologiques, Modélisation et Médecine Personnalisée) and CPER LCHN (Langues, Connaissances & Humanités Numériques).
PS : At the moment grele-13 and grele-14 don't have GPUs, but they should arrive really soon !
PS2 : As a reminder, rules for the production queue : https://www.grid5000.fr/mediawiki/index.php/Grid5000:UsagePolicy#Rules_for_the_production_queue
-- Grid'5000 Team 14:00, 10 July 2017 (CET)

Engineer positions available on Grid'5000 !
See the page of open positions.
-- Grid'5000 Team 14:00, 5 July 2017 (CET)

Grid'5000 software list updated
The Software page of the Grid'5000 wiki received a major overhaul. It lists many pieces of software of interest to Grid'5000 users, developed by the Grid'5000 community or the Grid'5000 team.
Please don't hesitate to suggest additions to that list!
-- Grid'5000 Team 13:00, 27 June 2017 (CET)
---
Grid'5000 sites
Current funding
As from June 2008, INRIA is the main contributor to Grid'5000 funding.
INRIA

CNRS

Universities

Université Grenoble Alpes, Grenoble INP
Université Rennes 1, Rennes
Institut National Polytechnique de Toulouse / INSA / FERIA / Université Paul Sabatier, Toulouse
Université Bordeaux 1, Bordeaux
Université Lille 1, Lille
École Normale Supérieure, Lyon


Regional councils

Aquitaine
Bretagne
Champagne-Ardenne
Provence Alpes Côte d'Azur
Nord Pas de Calais
Lorraine