Grid5000:Network
From Grid5000
Grid'5000 Network Infrastructure
Backbone Network

Grid'5000 backbone network infrastructure is provided by RENATER. RENATER is the French National Telecommunication Network for Technology, Education and Research. More information can be found on renater.fr. RENATER offers about 30 POPs (Points Of Presence) in France, at least one POP for each region, which metropolitan and regional networks are connected on. More than 600 sites (Universities, Research Centers, ..) are interconnected through RENATER.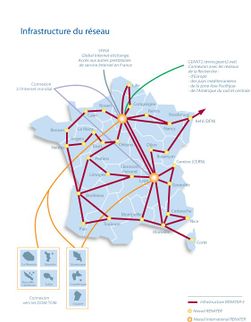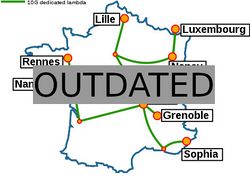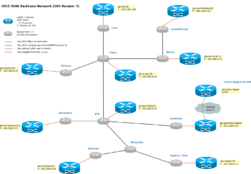 The actual phase of the network is RENATER-5, the deployment has been completed by January 2009. The "standard" architecture is based on 10Gbit/s dark fibers and provides IP transit connectivity, interconnection with GEANT-2 (http://www.geant2.net/), overseas territories and the SFINX (Global Internet exchange).
All Grid'5000 sites (with the exception of Reims and Nantes) are connected to dedicated 10Gbit/s lambdas on a DWDM infrastructure (see Wikipedia: Wavelength-division Multiplexing for more info).
Reims and Nantes are connected using an L2 VPN.
Grid'5000 sites networks
Grid'5000 sites provide access to a variety of network technologies (both Ethernet and high-performance networks such as InfiniBand). More information is available on the following pages:
The list of high performance networks is available on this page.
Address space for virtual machines
Grid'5000 has two different mechanisms to provide IP addresses to virtual machines: subnet reservation and KaVLAN.
Subnet reservation provides a mean to allocate IP addresses in the production (= default) network. This provides a way to avoid conflicts between users, but does not provide isolation: all machines are still in the same L2 network. Subnet reservation is documented in the Virtual machines on the production environment tutorial, and on the Subnet reservation page.
KaVLAN provides network isolation through dynamic switches and routers reconfiguration, for the duration of an experiment. Inside a KaVLAN network, users are free to allocate IP addresses as needed. However, some IP ranges are routed to/from the KaVLAN network. KaVLAN is documented in the Deploying OpenStack using KaVLAN tutorial (which provides an introduction to KaVLAN), in the Network isolation on Grid'5000 tutorial (which is a more advanced KaVLAN tutorial), and on the KaVLAN page.
Tables of available IP networks
Production network and subnet reservation
Here are the private IPv4 networks allocated to every sites, complementary to the already allocated networks:
Site
State
Production network
Administration network
High Perf network (ib/mx)
Kavlan network
Virtualization
Sail (Lyon)
Geysers (Lyon)
Bonfire (Rennes)
GridMIP&CloudMIP (Toulouse)
Bordeaux
172.16.0.0/20
172.17.0.0/20
172.18.0.0/20
10.0.0.0/14
10.128.0.0/14
Grenoble
172.16.16.0/20
172.17.16.0/20
172.18.16.0/20
10.4.0.0/14
10.132.0.0/14
Lille
172.16.32.0/20
172.17.32.0/20
172.18.32.0/20
10.8.0.0/14
10.136.0.0/14
Lyon
172.16.48.0/20
172.17.48.0/20
172.18.48.0/20
10.12.0.0/14
10.140.0.0/14
172.29.48.0/20
172.30.48.0/20
Nancy
172.16.64.0/20
172.17.64.0/20
172.18.64.0/20
10.16.0.0/14
10.144.0.0/14
Orsay
172.16.80.0/20
172.17.80.0/20
172.18.80.0/20
10.20.0.0/14
10.148.0.0/14 + 10.152.0.0/14
Rennes
172.16.96.0/20
172.17.96.0/20
172.18.96.0/20
10.24.0.0/14
10.156.0.0/14
172.31.96.0/20
Toulouse
172.16.112.0/20
172.17.112.0/20
172.18.112.0/20
10.28.0.0/14
10.160.0.0/14
172.28.112.0/20
Sophia
172.16.128.0/20
172.17.128.0/20
172.18.128.0/20
10.32.0.0/14
10.164.0.0/14
Reims
172.16.160.0/20
172.17.160.0/20
172.18.160.0/20
10.36.0.0/14
10.168.0.0/14
Luxembourg
172.16.176.0/20
172.17.176.0/20
172.18.176.0/20
10.40.0.0/14
10.172.0.0/14
Nantes
172.16.192.0/20
172.17.192.0/20
172.18.192.0/20
10.44.0.0/14
10.176.0.0/14
Orléans
172.16.208.0/20
172.17.208.0/20
172.18.208.0/20
Qualification
172.16.240.0/20
172.17.240.0/20
172.18.240.0/20
10.252.0.0/14
Virtual subnets configuration
| | | | |
| --- | --- | --- | --- |
| Site | Block | Gateway | DHCP server |
| Bordeaux | 10.128.0.0/14 | 10.131.255.254 | 10.131.255.253 |
| Grenoble | 10.132.0.0/14 | 10.135.255.254 | 10.135.255.253 |
| Lille | 10.136.0.0/14 | 10.139.255.254 | 10.139.255.253 |
| Lyon | 10.140.0.0/14 | 10.143.255.254 | 10.143.255.253 |
| Nancy | 10.144.0.0/14 | 10.147.255.254 | 10.147.255.253 |
| Orsay I | 10.148.0.0/14 | 10.151.255.254 | 10.151.255.253 |
| Orsay II | 10.152.0.0/14 | 10.155.255.254 | 10.155.255.253 |
| Rennes | 10.156.0.0/14 | 10.159.255.254 | 10.159.255.253 |
| Toulouse | 10.160.0.0/14 | 10.163.255.254 | 10.163.255.253 |
| Sophia | 10.164.0.0/14 | 10.167.255.254 | 10.167.255.253 |
| Reims | 10.168.0.0/14 | 10.171.255.254 | 10.171.255.253 |
| Luxembourg | 10.172.0.0/14 | 10.175.255.254 | 10.175.255.253 |
| Nantes | 10.176.0.0/14 | 10.179.255.254 | 10.179.255.253 |
| VPN nets | | n/a | n/a |
| Qualif | 10.252.0.0/14 | 10.255.255.254 | 10.255.255.253 |
KaVLAN
KaVLAN deployment status
KaVLAN networks
Non-routed local Vlans
| Site | KAVLAN-1 | KAVLAN-2 | KAVLAN-3 |
| --- | --- | --- | --- |
| All | 192.168.192.0/20 | 192.168.208.0/20 | 192.168.224.0/20 |
Routed Local Vlans
| Site | KAVLAN-4 | KAVLAN-5 | KAVLAN-6 | KAVLAN-7 | KAVLAN-8 | KAVLAN-9 |
| --- | --- | --- | --- | --- | --- | --- |
| Bordeaux | 10.0.0.0/18 | 10.0.64.0/18 | 10.0.128.0/18 | 10.0.192.0/18 | 10.1.0.0/18 | 10.1.64.0/18 |
| Grenoble | 10.4.0.0/18 | 10.4.64.0/18 | 10.4.128.0/18 | 10.4.192.0/18 | 10.5.0.0/18 | 10.5.64.0/18 |
| Lille | 10.8.0.0/18 | 10.8.64.0/18 | 10.8.128.0/18 | 10.8.192.0/18 | 10.9.0.0/18 | 10.9.64.0/18 |
| Lyon | 10.12.0.0/18 | 10.12.64.0/18 | 10.12.128.0/18 | 10.12.192.0/18 | 10.13.0.0/18 | 10.13.64.0/18 |
| Nancy | 10.16.0.0/18 | 10.16.64.0/18 | 10.16.128.0/18 | 10.16.192.0/18 | 10.17.0.0/18 | 10.17.64.0/18 |
| Orsay | 10.20.0.0/18 | 10.20.64.0/18 | 10.20.128.0/18 | 10.20.192.0/18 | 10.21.0.0/18 | 10.21.64.0/18 |
| Rennes | 10.24.0.0/18 | 10.24.64.0/18 | 10.24.128.0/18 | 10.24.192.0/18 | 10.25.0.0/18 | 10.25.64.0/18 |
| Toulouse | 10.28.0.0/18 | 10.28.64.0/18 | 10.28.128.0/18 | 10.28.192.0/18 | 10.29.0.0/18 | 10.29.64.0/18 |
| Sophia | 10.32.0.0/18 | 10.32.64.0/18 | 10.32.128.0/18 | 10.32.192.0/18 | 10.33.0.0/18 | 10.33.64.0/18 |
| Reims | 10.36.0.0/18 | 10.36.64.0/18 | 10.36.128.0/18 | 10.36.192.0/18 | 10.37.0.0/18 | 10.37.64.0/18 |
| Luxembourg | 10.40.0.0/18 | 10.40.64.0/18 | 10.40.128.0/18 | 10.40.192.0/18 | 10.41.0.0/18 | 10.41.64.0/18 |
| Nantes | 10.44.0.0/18 | 10.44.64.0/18 | 10.44.128.0/18 | 10.44.192.0/18 | 10.45.0.0/18 | 10.45.64.0/18 |
Global Vlans
| Site | Global Vlan | Subnet | Router IP |
| --- | --- | --- | --- |
| Bordeaux | KAVLAN-10 | 10.3.192.0/18 | 10.3.255.254 |
| Grenoble | KAVLAN-11 | 10.7.192.0/18 | 10.7.255.254 |
| Lille | KAVLAN-12 | 10.11.192.0/18 | 10.11.255.254 |
| Lyon | KAVLAN-13 | 10.15.192.0/18 | 10.15.255.254 |
| Nancy | KAVLAN-14 | 10.19.192.0/18 | 10.19.255.254 |
| Orsay | KAVLAN-15 | 10.23.192.0/18 | 10.23.255.254 |
| Rennes | KAVLAN-16 | 10.27.192.0/18 | 10.27.255.254 |
| Toulouse | KAVLAN-17 | 10.31.192.0/18 | 10.31.255.254 |
| Sophia | KAVLAN-18 | 10.35.192.0/18 | 10.35.255.254 |
| Reims | KAVLAN-19 | 10.39.192.0/18 | 10.39.255.254 |
| Luxembourg | KAVLAN-20 | 10.43.192.0/18 | 10.43.255.254 |
| Nantes | KAVLAN-21 | 10.47.192.0/18 | 10.47.255.254 |
Nodes assignments
Global vlan is a /18 (16382 hosts), so every site have one /23 (510 ip) in the global vlan.
Example for the global vlan of Lille 712 (10.11.192.0/18), other example nancy bind config (nancy.db)

Bordeaux: 10.11.192.1 → 10.11.193.254
Grenoble: 10.11.194.1 → 10.11.195.254
Lille: 10.11.196.1 → 10.11.197.254
Lyon: 10.11.198.1 → 10.11.199.254
Nancy: 10.11.200.1 → 10.11.201.254
Orsay: 10.11.202.1 → 10.11.203.254
Rennes: 10.11.204.1 → 10.11.205.254
Toulouse: 10.11.206.1 → 10.11.207.254
Sophia: 10.11.208.1 → 10.11.209.254
Reims: 10.11.210.1 → 10.11.211.254
Luxembourg: 10.11.212.1 → 10.11.213.254
Nantes: 10.11.214.1 → 10.11.215.254