Grid5000:School2011
From Grid5000
Organised by ALADDIN-G5K, Hemera and HPC Center ROMEO and hosted at University of Reims Champagne-Ardenne from April 18, 14:00 to April 21 14:00.
Introduction
After the successful 2006, 2009 and 2010 editions, Grid'5000 practitioners and future users are invited to gather, learn and share experience around the usage of Grid'5000 as a scientific instrument.
Organized in Reims, from April 18th to April 21th 2011, this spring school will bring together, but is not limited to, Grid'5000's users, technical team and executive committee for 4 days of tutorials and talks focusing on best-practices and results. Presentations and practical sessions will cover both:
basic usage of the platform, for new users, or potential users of Grid'5000
advanced usage of the platform, for current users
A challenge to showcase tools and environments demonstrating the deployment of distributed or Grid middleware on Grid'5000 will be held this year for the second time.
Language for the school will be English.
Program
The program is organized as follows:
On the monday afternoon and Tuesday morning, a special trak for new users of Grid'5000 covering the basics
From Tuesday afternoon to Thursday morning

keynote lectures
presentations of experimental results and feedback by Grid'5000 users
Practical sessions covering standard and advanced usage of Grid'5000
Special tracks for Hemera challenges
The School2011 Program as well as details of the practical sessions will be made available in due time.
Call for presentations and practical sessions
Important dates
February 15th, 2011: submission deadline (extended to Febuary 22nd, 2011)
March 15th, 2011: notification to authors
March 31st, 2011: Registration to the Grid'5000 Large Scale Deployment Challenge.
Call for presentations
Grid'5000 users are invited to submit papers presenting results obtained using Grid'5000 as well as the tools and techniques used to produce these results.
They will be evaluated based on:
their scientific contribution,
the quality of their experimental process
the potential for other users to reproduce those experiments and/or to learn from those experiments for their own problems

availability and visibility of the environments and scripts used, or
clear description of the techniques used
The presentations will last 30mn and will have a fixed format with
15mn to describe the scientific results
5 to 10mn to present techniques used to conduct the experiments
10 to 5mn for questions.
Submissions should be 4 to 6 pages, single column self contained documents. This document will be published in electronic conference proceedings.
Submissions will be handled through easychair, in the presentation track. You need to register as an author first, before submitting your presentation.
Call for practical sessions
Seasoned Grid'5000 users are invited to submit proposals for practical sessions. These practical sessions should be focused on dedicated kadeploy environments maintained by the submitters or on specific tools developed or used to ease the use of Grid'5000 (e.g. on common use-cases of the instrument). In particular, maintainers of Glite, Condor or cloud management stack (to name a few) are invited to make their work known. Practical sessions should be 1,5h or 2h long, or combine 2 sessions.
Authors are invited to submit a 2 page long proposal detailing the tool, environment or technique that will be taught to practitioners, as well as the main steps of the practical session.
Submissions will be handled through easychair, in the practical track. You need to register as an author first, before submitting your practical session proposal.
Registration for the Grid'5000 Large Scale Deployment Challenge
A challenge will be organized during the upcoming Grid'5000 School 2011, and we encourage users to submit a demo of your Grid'5000 experiment.
Submission about all acceptable uses of Grid'5000 are welcomed: experiments on networking, virtualization, operating system, runtime, middleware, libraries, programming models, emulation, simulation, applications ... It is a great opportunity to demonstrate your work, your tools, and your mastering of the Grid'5000 platform.
A submission consists in a short document (1 to 4 pages) describing the scientific context of the experiment, and giving an overview of the experiment. This document must be submitted to easychair before March 31st.
A few submissions will then be selected by the jury (composed of members of the Aladdin-G5K steering committee), and selected candidates will get the chance to do a live demo during the Grid'5000 School (the full experiment is expected to take between 30 minutes and 1 hour).
Prizes (last year, two Ipods were given to contestants) will be awarded based on (in no particular order):
size of the experiment (number of cores/nodes/clusters/sites and percentage of used resources: network, CPU, RAM, disks)
complexity of the experiment
efficiency of the experiment (qualitative ratio between quality of results and used resources)
use of Grid'5000 features: Kadeploy, the Grid'5000 API, KaVLAN ...
reproducibility: is your experiment fully scripted? Does it involve some manual steps?
quality of the experimental process and methodology
interest of the experiment for the Grid'5000 community
quality of the live demo
Candidates can group themselves in teams. However, only one prize per team will be given. There is no restriction on the status of participants: interns, PhD students, engineers, permanent staff are all welcomed. However, when deciding the attribution of prizes, the status of participants might be taken into account.
Prizes to be announced
Organizing and Program committee
Luiz Angelo Steffenel
Lucas Nussbaum
Olivier Richard
Arnaud Renard
David Margery
and members of the Grid5000 executive committee:

Frédéric Desprez
Emmanuel Jeannot
Yvon Jegou
Laurent Lefevre
Martin Quinson
Fabrice huet
Pierre Sens
Michel Dayde/JM Pierson
Christian Perez
Nouredine Melab
Local chairs
Luiz Angelo Steffenel
Arnaud Renard
Registration
Registering is a two steps action.
you need to register as a participant online
you need to register for the practical sessions you plan to attend during the first week of April
Fees include lunches(Tuesday, Wednesday and Thursday), a Champagne cellar visit and tasting, a cocktail, the gala dinner (Wednesday evening) and the participant kit.
150€ for full price registration
100€ for students

Should you have any troubles with the registration process, please contact Arnaud Renard (arnaud.renard at univ-reims.fr) or David Margery (David.Margery at inria.fr).
Here are additional registering informations :
Card Payment during the registration process online
Par Chèque Bancaire à l'ordre de l'Agent Comptable de l'URCA
Par bon de commande :

fax : 03 26 91 39 24
courrier : Université de Reims Champagne-Ardenne, Service Recherche / Grid5000, 9 Boulevard de la Paix, 51097 Reims Cedex
mail : arnaud.renard _a_ univ-reims.fr

Par Virement Bancaire à TP Chalons en Champagne – Banque 10071 – Guichet 51000 – N° de Compte 00001000272 – Clé 73

N° SIRET : 195 112 966 004 35
Code APE : 803 Z
Code TVA FR 73 195 112 966
IBAN FR 761071510000000100027273
BIC : BIC TRPUFRP1
Address : Université de Reims Champagne-Ardenne, 9 Boulevard de la Paix, 51097 Reims Cedex
Venue
Registration, Main sessions and lunch will be taken at the science Campus of Reims-Champagne University located at 10 minutes to downtown.
The town
Coronation City, Champagne town... Reims, one of the main gastronomic centers in France is eager to show you the legacy of its glorious past and to lead you into a prestigious realm of the most celebrated and festive of wines. Rich in traditions and centuries-old know-how, Reims has also become a modern and lively regional capital thanks to its location, at the crossroad of several European routes, its economy and its leading teaching and research centers.
Three sites listed as UNESCO World Heritage, the refined atmosphere of the Champagne Houses, a town center which offers you both the elegance of its Art Deco facades and its relaxed atmosphere which prevails in the streets and on the café-terraces, a program of many and varied cultural events, a green environment where nature is queen… Reims opens its doors to you and welcomes you.
Coming to Reims by car
When coming to Reims, you should pay attention that a new bypass of the A4 highway was opened recently, which may confuse the drivers coming to city center. Indeed, we suggest to leave the highway following "Reims-centre" sign, otherwise you will continue to Paris/Strasbourg.
Once arrived in Reims, please take the exit 25 - St Rémi and follow the map below to reach the Campus.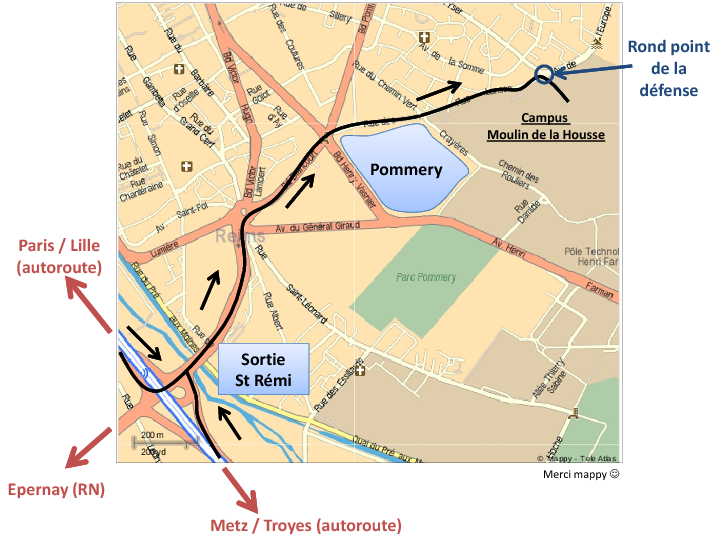 Coming to Reims by train
Two train stations connect Reims to the TGV Est railway : "Reims Gare" and "Champagne Ardenne TGV". The latter is located about 8 km from downtown, and can be reached by TER train or by public transportation.
The Champagne Ardenne TGV station might be interesting if you want to avoid passing by Paris (for example, when coming from Lille, Strasbourg, Massy, Charles de Gaulle, Marne la Vallée, etc.).
Coming to Reims by Plane
From Roissy Charles de Gaule Airport, there is a direct train to Champagne-Ardenne TGV station (in only 30 min). From Orly, you need to reach Paris-Est train station and then take a TGV to Reims.
Public Transportation
Reims has an efficient public transportation network, with many bus lines. A tramway line will be opened to the public just before the conference. Unfortunately, it doesn't connect to the campus but can facilitate the discovery of the town.
For further information on tickets and a network map, please refer to [1]. ATTENTION: the transportation network will be modified starting the day of the tramway inauguration (April 16, 2011), we strongly advise you to check the site for news.
Reaching the Campus
Once in Reims, please follow the directions to the campus "Moulin de la Housse", in the east of Reims. The following plan may help you to reach the conference sites (technical and practical sessions).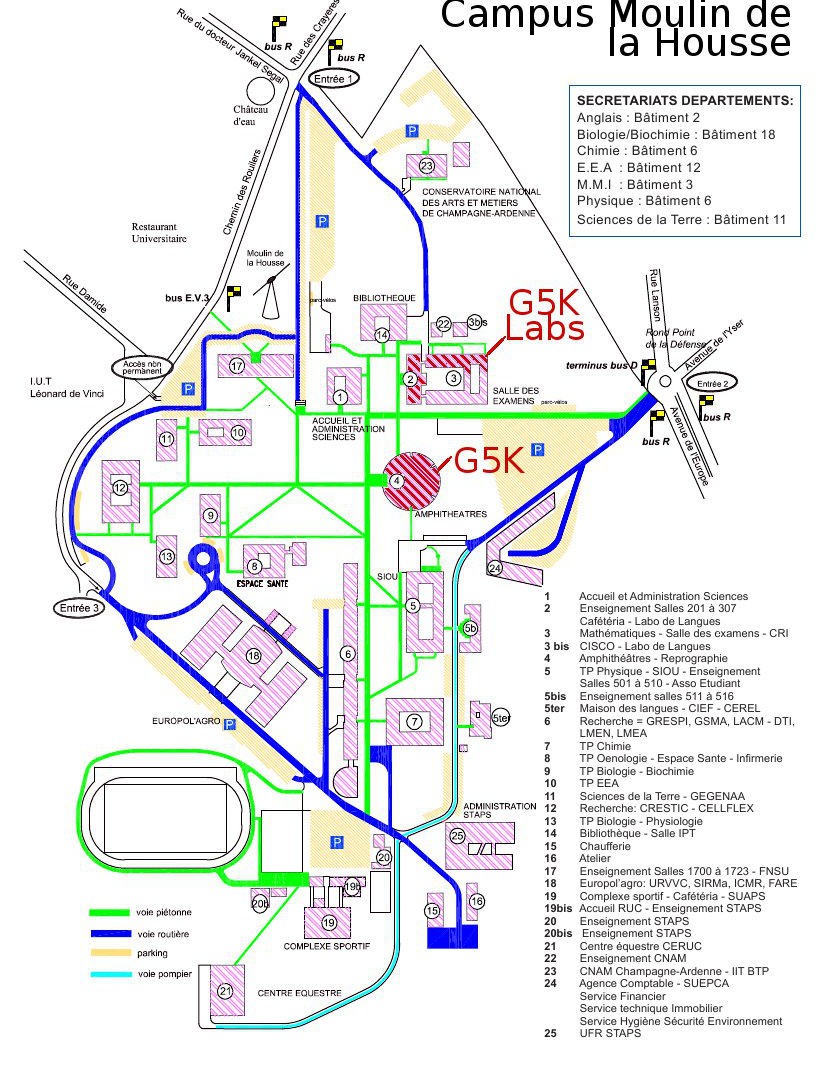 Hotels
We recommend you to book a room in downtown or in Farman economic area. Below you will find a brief list of hotels. In general, the conference site is easily reached from the downtown by public transportation.
For more hotels and online booking, please refer to the Tourism Office ([2]).

Downtown
KYRIAD Reims Centre *** - 7-9, Rue du Général Sarrail - 51100 Reims - Tel : 03 26 47 50 80 - Fax : 03 26 47 24 20
Best Western Hotel de la Paix *** - 9 rue Buirette - 51100 Reims
Hôtel de la CATHEDRALE ** - 20, rue Libergier - 51100 Reims - Tel : 03 26 47 28 46 - Fax : 03 26 88 65 81
Hôtel CECYL ** - 24, rue Buirette - 51100 Reims - Tel : 03.26.47.57.47- Fax : 03.26.88.47.01
Hôtel CRYSTAL **- 86, place Drouet d'Erlon - 51100 Reims - Tel : 03 26 88 44 44 - Fax : 03 26 47 49 28
Hôtel Azur ** - 9, rue des Ecrevées - 51100 REIMS - Tél : 03 26 47 43 39 - Fax : 03 26 88 57 19
Hôtel Bristol ** - 76, place Drouet d'Erlon - 51100 REIMS - Tél : 03 26 40 52 25 - Fax : 03 26 40 05 08
Grand Hôtel du Nord ** - 75, place Drouet d'Erlon - 51100 REIMS - Tél : 03 26 47 39 03 - Fax : 03 26 40 92 26
Reims East (Farman zone)
Château Les Crayères **** (5 min walk) - 64 Bd Henry Vasnier - 51100 Reims
KYRIAD Reims Est *** (5 min walk) - 12, rue Gabriel Voisin - 51100 Reims - Tel : 03 26 82 59 79 - Fax : 03 26 82 53 92
Hotel Mercure Reims Parc des Expositions *** (5 min walk) - 2 Rue Gabriel Voisin - 5100 Reims - Tel : 03 26 05 00 08 - Fax :
BEST Hôtel (may need a car, please check on google maps) - Rue Maurice Hollande - Z.I. La Pompelle - 51100 Reims - Tel : 03 26 82 72 10 - Fax : 03 26 82 55 17
Suburbs (a car is usually required to reach the conference site)
Hôtel Stars Reims Tinqueux - rue Louis Bréguet - Z.A. du Mont St Pierre - Tinqueux - Tél :
Première Classe Reims Est - Parc d'activité du Château - 51500 Taissy - Tel : 03 26 82 18 36 - Fax : 03 26 82 18 58
Première Classe Reims Sud - Murigny - Avenue de champagne ZAC de Murigny - 51100 Reims - Tel : 0 892 70 71 27