Reims:Home
From Grid5000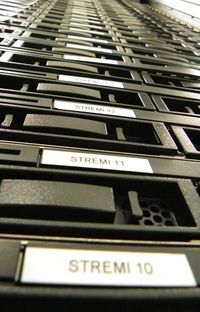 Specific informations of Reims's site:
Direct access to resources for Reims's site:
Shortcuts to global tools and informations:
Latest updated publications
Site filtering no longer supported
A Probabilistic Boolean Network Approach for the Analysis of Cancer-Specific Signalling: A Case Study of Deregulated PDGF Signalling in GIST - Panuwat Trairatphisan, Monique Wiesinger, Christelle Bahlawane, Serge Haan, Thomas Sauter (2016)
Cure: Strong semantics meets high availability and low latency - Deepthi Akkoorath, Alejandro Z. Tomsic, Manuel Bravo, Zhongmiao Li, Tyler Crain, Annette Bieniusa, Nuno Preguiça, Marc Shapiro (2016)
SMART: An Application Framework for Real Time Big Data Analysis on Heterogeneous Cloud Environments - Julio C. S. Anjos, Marcos D. Assuncao, Jean Bez, Claudio F. R. Geyer, Edison Pignaton de Freitas, Alexandre Carissimi, João Paulo C. L. Costa, Gilles Fedak, Felix Freitag, Volker Markl, Paul Fergus, Rubem Pereira (2015)
[DOI:10.5220/0005365402790286 Genetic Mapping of Diseases through Big Data Techniques] - Julio Cesar Santos dos Anjos, Bruno Reckziegel Filho, Junior F. Barros, Raffael B. Schemmer, Claudio Geyer, Ursula Matte (2015)
Automatic I/O scheduling algorithm selection for parallel file systems - Francieli Zanon Boito, Rodrigo Virote Kassick, Philippe O. A. Navaux, Yves Denneulin (2015)
Latest updated experiments
Site or status filtering no longer supported

Supervision:
Acknowledgement
SaintRemi (STREMI) cluster is hosted at the [ROMEO HPC Center]. We would like to thank the Champagne-Ardennes Regional Council for its funding support.
Photo Gallery